Beach territory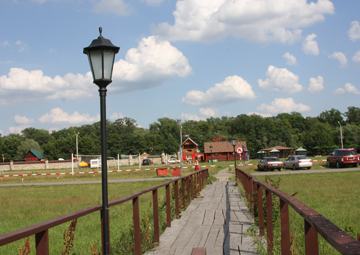 In the territory of the beach you can find:
- clean bank of the river that have been equipped with all necessary things including two comfortable descent into the water and have undergone treatment against ticks and mosquitoes
- fenced swimming area surveyed by divers
- guarded parking
- bars on the bank of the river
- VIP-zone
- Football field and volleyball ground
- Russian sauna
- Boats and catamarans hire
- Summerhouses with tents with sofas and summer chairs.
Near the beach there is a children playground that has been fenced on all sides to keep your kid in safety.
To the right of the beach there is a spacious «Second field» for outdoor activities, where you can find:
- Stage and seats for spectators,
- Summerhouses with outdoor grills and piped water
- Banquet tents
Along the bank there is a bicycle path.
Enjoy your rest away from city fuss, dust and heat! Plunge into the atmosphere of unity with nature!