Places of interest of Ramon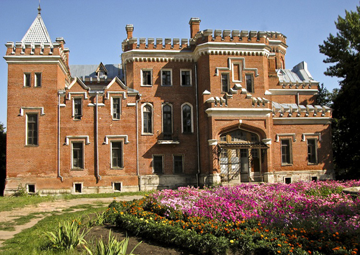 The main attraction of Ramon is the Castle of Oldenburg Princess that was built in 1887.
 In those years the whole Ramon was donated to Eugenia Leuchtenberg, the niece of Alexander II and direct descendant of Peter I, in marriage the Oldenburg.
 The castle is almost reference mansion of late XIX — early XX century, one of the best in Russia. The whole ensemble of the castle is built in pseudo-Gothic style, and its red-brick building with turrets and lancet windows are made in English manor style.
There are a number of architectural monuments retained in Ramon:
 the Castle of Oldenburg Princess and tower with Swiss clock (1887);
House museum of the poet Venevitinov D. V. in Novozhivotinnoe;
Nobles Venevitinovs estate (XIX century), landlord Mikhailovskiy estate in Gorozhanka;
Arkhangelskaya church in Chertovitsy.
There is also newly constructed Nikolskaya church.  In the area of the village you can find a research institute of sugar beet and sugar, research institute of plant protection and Voronezh reserve.
Regarding questions about tours organization, please contact the administrator.